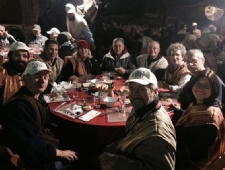 Powerful Unity
In the last 48 hours, since I have returned from an amazing trip to Israel, with ten other members of our community, I have been reflecting on my experiences of the trip. One event stands out powerfully in my mind this morning.
It took place on our way up to Jerusalem, with many who were going on ...
Two worlds merging
Dear friends,

I'm writing to you from the David Citadel Hotel in Jerusalem, while participating in "The Land and the Spirit" tour of Israel, with ten other members of the Vancouver Island Jewish community.

There is so much to say about the last few days on so many levels that I ...